It didn't take long for me to think of a topic to write for this Meme from Shell at
Things I Can't Say
.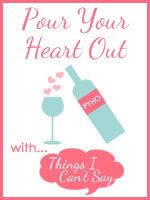 Before I begin I would like to say that please don't judge my story. If you are in the same boat with me then come along for the ride. This is my story from my perspective.
I am a working mom. I worked full-time through both pregnancies, only taking 12 weeks of Maternity Leave each time. Heading back was painful and hard and I cried the whole way there. Luckily, I have a very generous Mother-In-Law who has lovingly taken care of the boys while my husband and I go to work.
There are many days when I am torn between two worlds: work vs. home. Unless you experience it for yourself then you can never understand what it is like. Life would be easier, surely if my only responsiblity was to my home and my children, but alas it is not.
I am tired of people who don't have children passing judgement on co-workers that do have someone other then themselves to take care of. I've actually had people tell me that it was my choice to have kids and it was my choice to live an hour away from work. To these people I feel like saying, "Well it's your choice to make work your life and it's your choice to give your life only to yourself."
I know what sacrifice is. I sacrifice everything for the sake, care, and well-being of little human beings that are going to grow up and hopefully be contributing members of society. Yes, I may leave on time and not pull overtime like you. I have to go home and clean, feed, and raise my kids. You have to go home and do nothing but whatever pleases you, which is by definition, only selfishness.
Don't judge. I work just as hard as you do and even harder when I get home. If you had any courage or priorites other then yourself you would understand this. Walk in my shoes before you judge me or any other working mom or dad out there!